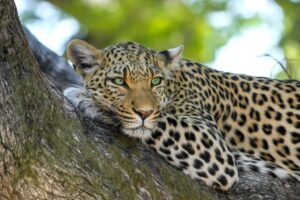 Africa Easy is your gateway to the African safari of your dreams. We'll get you there!
Whether discovering the wonders of Africa for the first time or returning for a second, fifth, or tenth time, we work with travelers to select or design a safari that best meets your travel style and interests to Botswana, South Africa, Namibia, Kenya, Tanzania, Rwanda, Morocco, and beyond!
Founded in 2003 by South African native, Nadia Eckhardt, our Africa Easy team of safari and expedition specialists, tour leaders, and travel enthusiasts brings more than 30 years of experience in planning and leading tours on all seven continents
We invite you immerse yourself in our safari collection, starting with one of three travel styles: Expert-Led Safaris, Set Departure Safaris, and Custom Designed Safaris. Or, you may search by region via our Africa Safari Regions Map page.
Our Story
Africa Easy was born from a deep-rooted love for Africa and a lifelong passion for travel.
Founder, Nadia Eckhardt, has devoted her life to expedition travel as a veteran Tour & Safari Leader, Cruise Director, and Shore Excursion Manager. Having worked extensively on expedition vessels for some of the world's top expedition companies, including Zegrahm, Lindblad, Abercrombie & Kent and Silversea, Nadia lives and breathes exploratory travel. Her spirited enthusiasm and impressively extensive travel knowledge has earned her international accolades and a dedicated community of intrepid adventurers who will follow her far beyond the edge of civilization. No matter how far and wide Nadia has traveled, there is simply no place like Africa, in her mind. She founded Africa Easy to ensure that curious travelers experience an extraordinary safari through Africa.
Our Affiliations
We are active members of the ATTA – The Adventure Travel Trade Association and of APTA – Association of Promotion of Tourism to Africa (Pacific Northwest Chapter).
Destination Management Services
Are you a Tour Operator? We design and manage shore excursions for the world's leading expedition companies for their travel programs along the African coasts, throughout the Indian Ocean Islands, and Cuba. If you are an Expedition Tour Operator and would like to learn more about Africa Easy's destination management services, please contact us to arrange a meeting.
Expedition Easy
We invite you to visit our sister company, Expedition Easy, for incredible small ship cruises to our planet's most extraordinary places: Antarctica, the Arctic, Galapagos Islands, the South Pacific, as well as overland adventures to Japan, Cuba, India, Turkey, and beyond.
Visit our Travel Calendar to see which expeditions will be led by founder, Nadia Eckhardt and other field experts.
Not finding your next African safari on our website? We create tailor-made specialty safaris throughout Africa. Get in touch — tell us where you want to go!