Here is a brief selection of favorite, new and hard-to-find books, prepared for your journey. You will find below direct links to Amazon where you will be able to purchase the following recommended books in your preferred format.
Essential

Here is a brief selection of favorite, new and hard-to-find books, prepared for your journey. You will find below direct links to Amazon where you will be able to purchase the following recommended books in your preferred format.

Insight Guides
Insight Guide South Africa
This guide brings South Africa to life in hundreds of color photographs and vividly written essays by a team of experts. Panoramic in scope, the book takes us from Johannesburg out into the veldt, providing genuine insight into the history, nature and modern politics of this complex land.

Richard D. Estes
The Safari Companion
An invaluable encyclopedic guide to Africa's mammals by a noted scientist, this perennial bestseller includes black-and-white drawings, an overview of each animal group and in-depth information. Written with a typical safari-goer in mind.

Rian Malan
My Traitor's Heart
The Afrikaner and journalist recounts his return to his homeland just before the collapse of Apartheid. Malan grapples with the black and white heart of South Africa, drawing on the 300-year history of his family in Africa, legends of the Zulu nation and some brutally honest reporting of current events.
Vincent Carruthers
The Wildlife of Southern Africa
This new edition of the best-selling and well-known illustrated field guide to the animals and plants of southern Africa is fully updated with all the latest taxonomy and common names. It features over 2,000 carefully selected plants and animals, large and small, that are likely to be encountered during a visit to any part of the region. More than 1,200 species are vividly illustrated and many more are identifiable from the text through reference to similar species.
Also Recommended

Kenneth Newman
Newman's Birds of South Africa
The tenth edition of the compact field guide, our favorite for anywhere south of the Zambezi.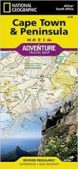 National Geographic
Cape Town & Peninsula Map
This double-sided, full-color map covers hiking trails, attractions and points of interest in Cape Town south to the Cape of Good Hope.

Eyewitness Guides
Eyewitness Travel Guide: South Africa
This superb guide features color photography, dozens of excellent local maps and a region-by-region synopsis of the country's attractions.

Time Out
Time Out Cape Town
Travelers will appreciate this up-to-the-moment guide for where to go and what to do in Cape Town.

Thomas Pakenham
The Scramble for Africa
A well-written, meticulously researched history of the Victorial land grab in Africa. The book includes excellent protraits of the egomaniacal personalities that overran the continent.

Martin Meredith
The Fate of Africa
Ambitious in scope, immensely readable – and as big as a doorstep – Martin Meredith's overview of the tumult, horrors and strides made in Africa since independence is invaluable.

Robyn Scott
Twenty Chickens for a Saddle
Haphazardly schooled by her free-spirited mother and left to roam the bush, Robyn Scot writes with warmth and candor of her unconventional upbringing in Botswana, including her grandpa Ivor (personal pilot to the first president of Botswana), physician father's work, unfortunate pets, siblings and adventures.

Nelson Mandela
Long Walk to Freedom
An unpretentious tale of an extraordinary life, Mandela's autobiography is essential reading for an understanding of South Africa. His grace and his love for his country shine throughout.

J.M. Coetzee
The Life & Times of Michael K
A Booker Prize-winning novel about a troubled by in South Africa in the midst of a civil war. J.M. Coetzee is also Nobel Prize winner for his body of work, much of which is set in his home country of South Africa.

Will Taylor, Gerald Hinde, Richard Du Toit
Africa's Big Five
South African photographers and naturalists teamed up for this oversize, illustrated celebration of the lion, elephant, leopard, rhino and buffalo.

Alain Pons
South Africa Safari Companions
A colorful illustrated guide to wildlife, photographic opportunities and travel. There are beautiful photographs on every page, each accompanied by a caption with photography trips for travelers looking to get the most out of their cameras.

Jonathon Kingon
Kingdon Pocket Guide to African Mammals
This is an essential guide for anyone with an interest in wildlife who visits Africa–from the tourist on safari to the more experienced naturalist. Compact and beautifully illustrated, it is ideal for use in the field, while its coverage is the most comprehensive for any book of its size.