Here is a brief selection of favorite, new and hard-to-find books, prepared for your journey. You will find below direct links to Amazon where you will be able to purchase the following recommended books in your preferred format.
Essential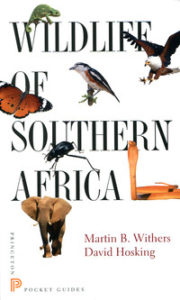 Martin B. Withers
Wildlife Southern Africa
This Princeton Pocket Guide, featuring 400
color photographs by Withers and co-author
David Hosking, covers all the birds, mammals,
lizards and insects you are likely to encounter.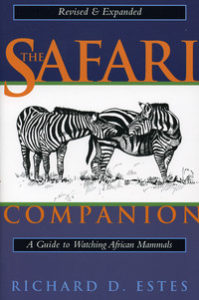 Richard Estes
The Safari Companion
An invaluable encyclopedic guide to Africa's
mammals by a noted scientist, this perennial
bestseller includes black-and-white drawings,
an overview of each animal group and in depth
information. Written with the typical safari-goer in mind.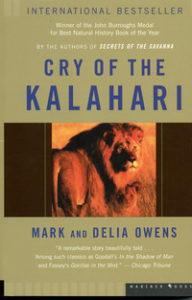 Mark Owens, Delia Owens
Cry of the Kalahari, Seven Years in Africa's Last Great Wilderness
The story of a family thrown out of Botswana for its stance on conservation. While their approach to conservation is controversial, there's no doubt that the Owens are dedicated to the wildlife of Southern Africa — and are very good writers.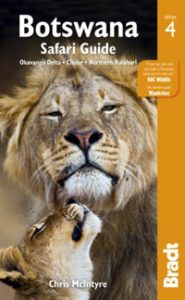 Chris McIntyre
Botswana, the Bradt Safari Guide
With comprehensive coverage of history, flora,
fauna and practicalities, this guide presents
Okavango, Chobe, the Kalahari and other
popular destinations in detail.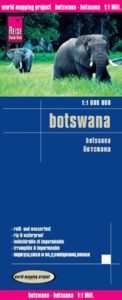 Reise Know How 
Botswana Map
A detailed map of Botswana at a scale of
1:1,000,000. Unfolded size: 27 x 39 inches.
Also Recommended

James Kavanagh
African Wildlife: A Folding Pocket Guide to Familiar Species
Eco-tourists, adventurers, and nature lovers will find African Wildlife to be the ideal pocket-sized, folding guide to refer to on safari. The familiar elephant is one of thousands of species of animals inhabiting the diverse ecosystems found throughout region. This beautifully illustrated guide highlights over 140 familiar and unique species of mammals, birds, reptiles, amphibians and includes a map of the country's vegetation zones.


Jonathon Kingon
Kingdon Pocket Guide to African Mammals
This is an essential guide for anyone with an interest in wildlife who visits Africa–from the tourist on safari to the more experienced naturalist. Compact and beautifully illustrated, it is ideal for use in the field, while its coverage is the most comprehensive for any book of its size.

Michael Main
Culture Smart! Botswana
A concise, well-illustrated and practical guide
to local customs, etiquette and culture.

Kenneth Newman
Newman's Birds of Southern Africa
This commemorative 10th edition celebrates the late author with a fully revised and updated version. Edits were done by his daughter, Vanessa Newman, to reflect the latest research, taxonomy and common names.

Vincent Carruthers (Editor), Kenneth Newman (Illustrator) 
The Wildlife of Southern Africa
With 1,200 color illustrations by a range of
experts, this compact field guide includes
all the birds, mammals, reptiles, amphibians,
insects, fish and plants that a traveler is likely to
encounter in southern Africa.

John Reader
Africa, a Biography of the Continent
With the ease of a practiced journalist, Reader
weaves a masterful and lively tale of the
continent, from ancient cultures to modern
times. Both authoritative and informal, this is
a splendid introduction to all of Africa.

Thomas Pakenbam 
The Scramble for Africa
Absorbing and meticulously researched, this
in-depth history of the Victorian land grab in
19th-century Africa includes excellent portraits
of the egomaniacal personalities who overran
the continent.

Robyn Scott 
Twenty Chickens for a Saddle
Haphazardly schooled by her free-spirited
mother and left to roam the bush, Scott
writes with warmth and candor of her
unconventional upbringing in Botswana,
commenting on her Grandpa Ivor (personal
pilot to the first president of Botswana),
physician father's work, unfortunate pets,
siblings and adventures.

Norman Rush
Mating
A This comic novel evokes daily life in Botswana
and skewers the notion of well-intentioned
academics at large in the developing world.
The description of a trek from Gaborone to
the Kalahari is terrific. Winner of the National
Book Award.

Alexander McCall Smith 
The Double Comfort Safari Club
A prickly secretary (make that assistant detective!) Grace Makutsi, head to the Okavango Delta where there have been several unexplained and troubling events including the demise of one of the guests.
Gerald Hinde (Photographer) 
Big Five of Africa
Award-winning wildlife photographer Gerald
Hinde's stunning photographs celebrate
Africa's lions, elephants, leopards, rhinos and
buffalos. Brief but informative text introduces
each animal but the photographs (rightly)
are the main focus. Size: 8 x 8 inches.