Here is a brief selection of favorite, new and hard-to-find books, prepared for your journey. You will find below direct links to Amazon where you will be able to purchase the following recommended books in your preferred format.

Essential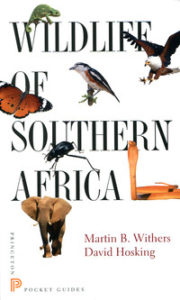 Martin B. Withers
Wildlife Southern Africa
This Princeton Pocket Guide, featuring 400
color photographs by Withers and co-author
David Hosking, covers all the birds, mammals,
lizards and insects you are likely to encounter.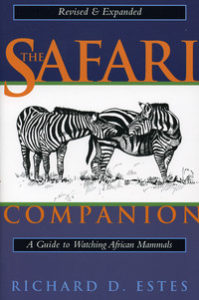 Richard Estes
The Safari Companion
An invaluable encyclopedic guide to Africa's
mammals by a noted scientist, this perennial
bestseller includes black-and-white drawings,
an overview of each animal group and in depth
information. Written with the typical safari-goer in mind.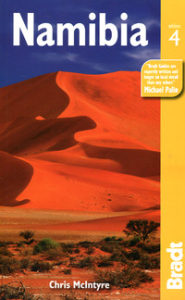 Chris McIntyre
Bradt Guide Namibia
A good overview of Namibia from the excellent series of practical, comprehensive travel guides published by Bradt, especially strong on the descriptions of individual national parks and visitor attractions. This thoroughly updated fourth edition includes all the developments in Namibia's accommodation, from guest farms and lodges to bush-camps, plus details on areas of natural interest such as the new Sperrgebiet National Park.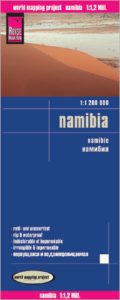 Reise Know How
Namibia Map
A folded, indexed road map of Namibia, showing all major and many minor roads, cities and towns, at a scale of 1:1,200,000.
Also Recommended

The Africa Adventure Company
Safari Planning Map, East & Southern Africa
This large-scale, colorful map covers the
top safari countries and important wildlife
reserves of East and Southern Africa. With
enlargements of key regions like Northern
Tanzania, Southern Kenya and Northern
Botswana to Victoria Falls, the map includes
information on planning your safari and
climate graphs.

Sharri Whiting
Culture Smart! Namibia
A concise and practical guide to local customs,
etiquette and culture with a short overview of
the land and people along with practical travel
advice.

John Reader
Africa, a Biography of the Continent
With the ease of a practiced journalist, Reader
weaves a masterful and lively tale of the
continent, from ancient cultures to modern
times. Both authoritative and informal, this is
a splendid introduction to all of Africa.

Thomas Pakenham
The Scramble for Africa
Absorbing and meticulously researched, this
in-depth history of the Victorian land grab in
19th-century Africa includes excellent portraits
of the egomaniacal personalities who overran
the continent.

Peter Allison
Don't Look Behind You!
Subtitled A Safari Guide's Encounters with
Ravenous Lions, Stampeding Elephants, and
Lovesick Rhinos, this harrowing and hilarious
travel narrative makes you feel like you're right
there on safari.

Rupert Isaacson
The Healing Land, The Bushmen and the Kalahari Desert
A powerful account of the ancient traditions of
the Kalahari Bushmen and the very
contemporary struggle of a people who have
been displaced from their land.
Peter Orner
The Second Coming of Mavala Shikongo
Set in 1991 at a school in the middle of a
Namibian desert, soon after independence from
South Africa, Orner's hypnotic debut novel
revolves around a young American teacher's
captivating and beautiful co-worker, Mavala
Shikongo.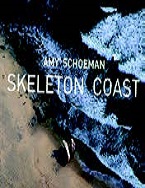 Amy Schoeman
Skeleton Coast
This revised edition of Shoenman's classic, first
published in 1971, shows the magnificent
landscapes, wildlife and nature of the Namib
desert, Skeleton Coast and northwest Namibia
in 160 color essays and accompanying essays on
geology, climate, nature and history.
Vincent Carruthers (Editor), Kenneth Newman (Illustrator)
The Wildlife of Southern Africa
With 1,200 color illustrations by a range of
experts, this compact field guide includes
all the birds, mammals, reptiles, amphibians,
insects, fish and plants that a traveler is likely to
encounter in southern Africa.