NADIA ECKHARDT, Founder and President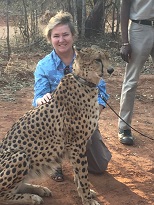 Nadia Eckhardt was born in the beautiful city of Cape Town, South Africa. She lives in Seattle today, but still calls the Cape "home." She has traveled to all seven continents and more than 125 countries, and plans on exploring a lot more with Expedition Easy and Africa Easy. Nadia is well-versed in many adventure destinations across the globe, from Antarctica and the Arctic, to the Galapagos Islands and Japan, and places throughout the diverse African continent. She divides her time between leading safaris and expeditions, and planning trips for travelers with colleagues in her Seattle office.
Her travel career began in the early 80's, exploring the Indian Ocean islands, Seychelles, and Madagascar. In 1989, she boarded her first expedition ship (Society Explorer) as shopkeeper and zodiac driver in Bali, Indonesia, and from that moment on, she was hooked on adventure travel. For 30 years now, Nadia has worked extensively on expedition vessels for the top U.S. Tour Operators: Zegrahm, Lindblad, Abercrombie & Kent and Silversea. Nadia is a veteran Tour & Safari Leader, Cruise Director, and Shore Excursion Manager. She is actively involved in shore excursions for the leading expedition companies on exceptional programs along the African coasts and to fascinating places such as Cuba. Nadia combines her destination knowledge and experience, as well as her passion for travel to ensure others have extraordinary adventures to remote corners.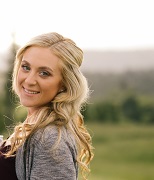 EMILY COCKING, Program Manager
Emily was born in Connecticut and currently resides in the greater Seattle area with her husband, 2 sons and black lab. She earned her bachelor's degree in Business and also has her esthetics license.
Ever since Expedition Easy planned ​Emily's first family trip to New Zealand, she has had a strong desire to travel and explore and hopes to one day visit all 7 Continents!  Emily enjoys experiencing different cultures and adventure activities in remote regions.
​After returning from her family adventure around New Zealand, Emily ​​has continued to travel including​ ​a voyage to The Galapagos Islands​, ​Australia, South Africa​ as well as the Caribbean.
Emily has played an integral part of the Africa Easy/Expedition Easy Team since ​signing on February 2016, wearing several hats including Marketing and Sales, bookkeeping and safari itinerary planning. Emily is passionate about adventure travel.